Gear Reviews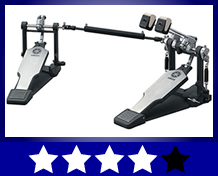 The Yamaha Flying Dragon 9500d is a great double bass drum pedal. It is very smooth, responsive, and it's very easy to make minor adjustments. The beaters are very well made, and you won't need to worry about replacing then for quite a while. I would have preferred if Yamaha had kept the classic beater from the previous Flying Dragon Pedals, but these double sided beaters are still really nice.
One problem I had with these pedals is one of the tightening screws in the arm that connects the primary pedal to the slave pedal stripped, so I wasn't able to tighten to connecting rod. All had to do is go to the music stare and get it replaced, but was is definitely a inconvenience.
Overall I would give this pedal a 4/5. It is really well made, and easy to adjust, but with possibility of screws stripping and the steep price it gets a solid 4 out of 5 stars.
The Roland TD-9KX is one of Rolands middle of the road electronic drum kits. The difference between the TD-9KX and just the regular TD-9K is that the KX version has a mesh heads, while the regular K version has rubber pads for the toms. The TD-9 module is very user friendly while having tons of features. The TD-9 module comes with 50 different customizable drum kits, 50 loop tracks in which you can either play over or mute the pre-recorded drum tracks. The TD-9 module also included a customizable metronome, recording features so you can record and critique your playing, midi in and out so which always you to trigger external sounds from software such as logic, toontrack. protools etc...
The quality of the TD-9KX is second to none among mid-range e-kits. The mesh pads are solid and feel very similar to an acoustic drum kit. You are able to play very hard on the mesh heads without worrying about puncturing them. The cymbals are about as realistic as you will find for an electronic drum kit. The couple cons about the actual hardware is the hi-hat pedal seems a little flimsy and isn't very realistic. The same goes for the bass drum trigger. The trigger itself seems to be a little hard because my pedal seems to rebound too much even after adjusting my bass drum pedal. Even though I'm not too fond of both the hi-hat pedal and bass drum trigger, they are both upgradable if you want customize your kit.
I'm giving the TD-9KX 4.5 stars out of 5. If you are unable to buy an acoustic drum kit I would highly recommend the Roland TD-9KX.